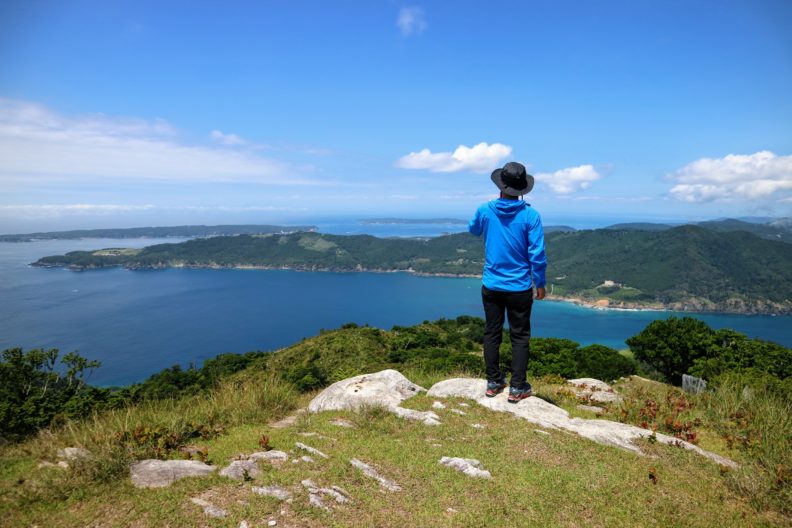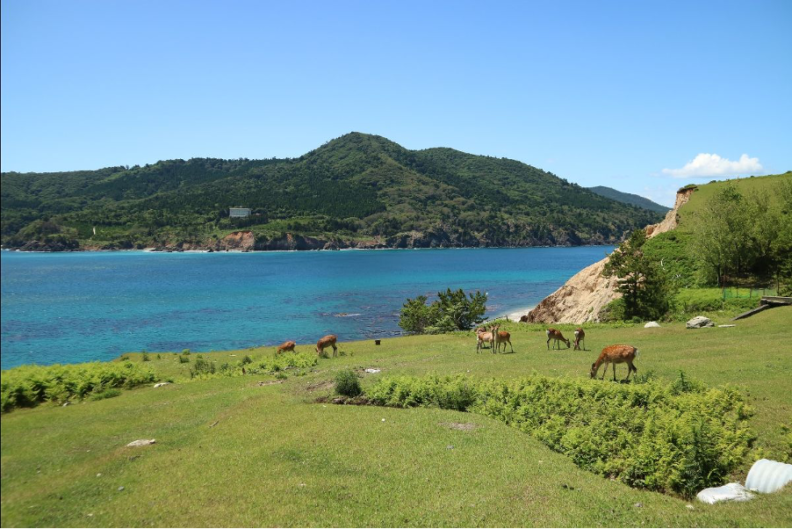 At the southern tip of the Sanriku Fukko National Park just off the Oshika Peninsula in Miyagi Prefecture lies Kinkasan – an insanely beautiful island protected by the ancient Koganeyama Shrine and home to over 500 wild deer that are considered divine messengers of the Gods.

Throughout a history stretching back over 1200 years, the entire island has been known as one of Tohoku's 'most sacred locations' (together with Yamagata's holy mountains of Dewa and Mt. Osore in Aomori) and spiritual training ground for 'Shugendo', an indigenous religion of Japan celebrating the coexistence of nature and spirituality.
As soon as you step foot on the island and are greeted with scenes like these, it is difficult to deny a kind of spiritual power or other-worldliness to the island's natural beauty. Wild deer roam freely along open expanses of rocky green turf, monkeys hide in amongst almost Jurassic, Yakushima-esque mountain forest, all surrounded by epic views of the vibrant blue Sanriku coastline.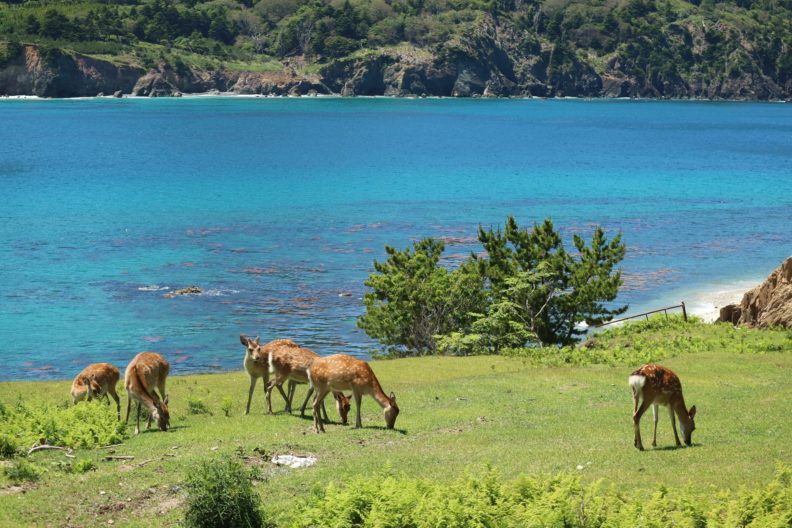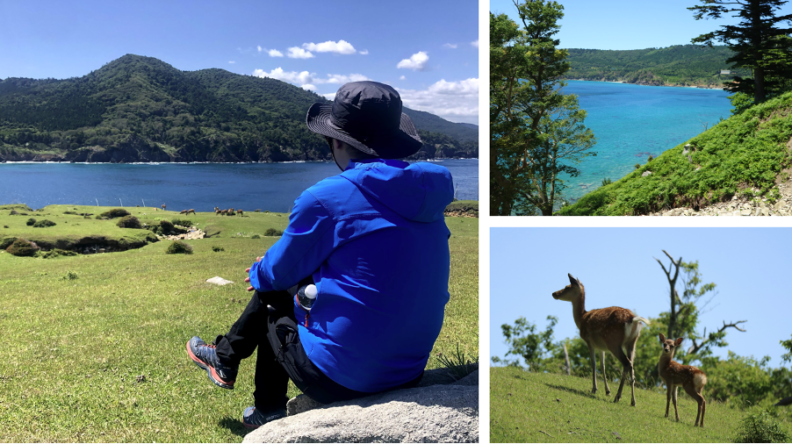 At the centre of the island is Koganeyama Shrine. It is said that if you visit the shrine at least three times over three consecutive years you will never have to worry about your finances for the rest of your life…!
(Two more years to go, for us!)
The wild charm of the island is protected by the fact that access is not super easy. Boats ferry visitors to and from the island from two locations – Ayukawa in Ishinomaki and Onagawa Port – but public ferries only run on Sundays and some Saturdays. As the services are infrequent, a day trip to Kinkasan only leaves you with about 2.5 hours between boats, which is not nearly enough time to explore everything the island offers. As such, it is recommended to experience 'Okomori' or staying overnight at Sanshuden, the accommodation at Koganeyama Shrine.

An overnight stay on Kinkasan is in and of itself a fascinating experience, including a 'Naorai' dinner (featuring local seafood, pictured below), breakfast and morning prayer ceremony. The ceremony is called 'Ichiban Ogoma Kito' and involves the offering of a sacred chant (Oharae-no-kotoba), fire ceremony, Kagura dance by the 'Miko' shrine maidens and receiving of 'Omiki', sacred sake.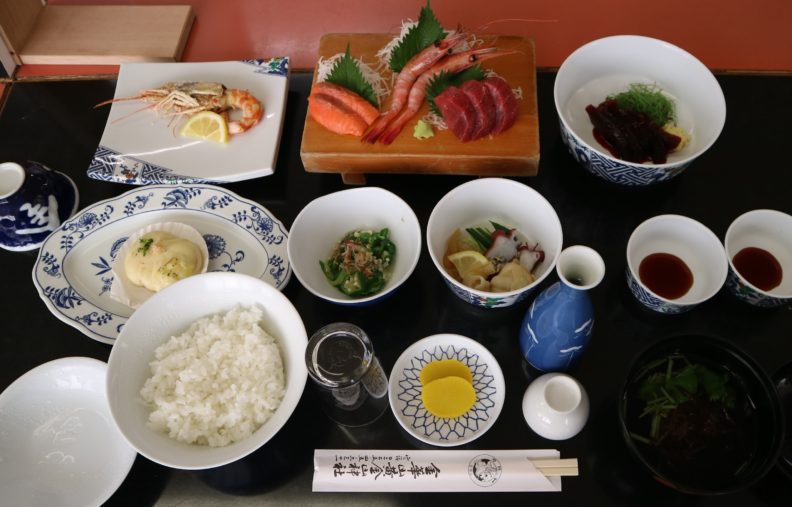 Staying overnight also allows plenty of time to explore the hiking trail to the peak of Kinkasan. It is a fairly steep climb / descent involving a bit of boulder clambering (so not one for the faint of heart) but any sweat is well rewarded with some stunning panoramic views and the odd lucky encounter with local wildlife/Gods.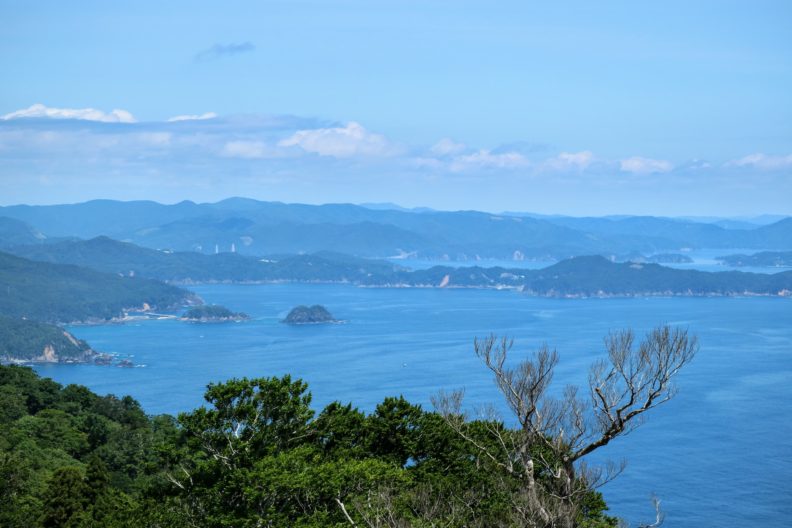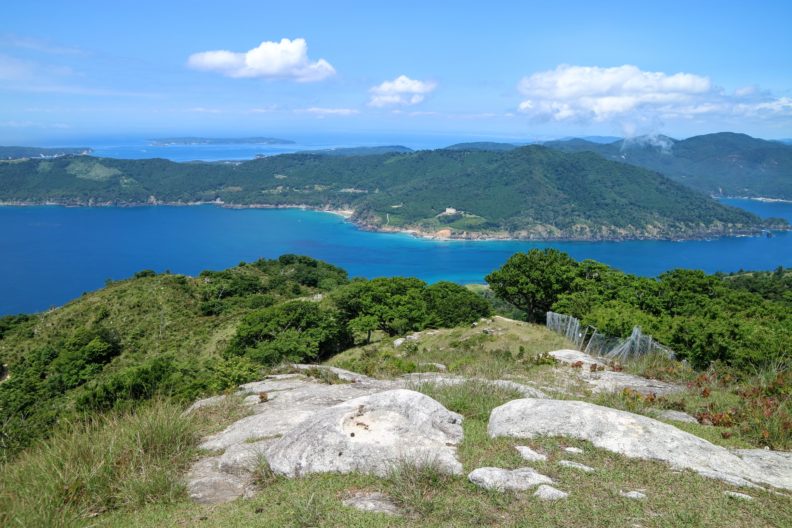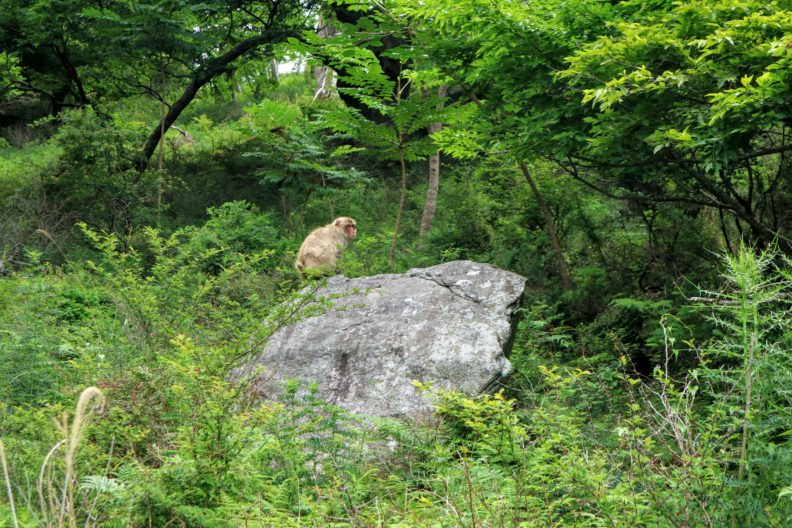 For those looking to set up a private visit or overnight stay to the island, it is possible to set-up chartered visits.  Please feel free to send through a request for more information.
KINKASAN ACCESS INFORMATION
**Please note public ferries are only available on Saturdays and Sundays and should be reserved in advance (by phone, see below). On weekdays, it is possible to charter a private ferry for a cost of 15000 JPY per charter. **
Address / Google Maps / What three words:
Kinkasan-5 Ayukawahama, Ishinomaki-shi, Miyagi-ken 986-2523
///declining.delivering.noises
ACCESS BY PUBLIC TRANSPORT:
From Onagawa (観光桟橋):
 It's a 35 min ride from Onagawa Sightseeing Pier to Kinkasan by local ferry managed by 'Ushio Planning boat (潮プラニング定期船)'. However, boats typically run only on Sundays, holidays, & some Saturdays (See timetable here, Japanese only). The Onagawa Sightseeing Pier is a short 10 min walk from JR Onagawa Station on the Ishinomaki Line. 
TICKET PRICES:
Ushio Planning boat (round-trip): ¥3,100 (Adults), ¥1560 (Children)
From Ayukawa Port (鮎川湾):
It's a 20 min ride from Ayukawa Port to Kinkasan by local 'Dream Liner boat' (ドリーム定期船) or marine taxi, Kaijo Taxi Kuroshio (海上タクシーくろしお). Again, the Dream Liner option is only available on Sundays (See timetable here, Japanese only).  For other days and times, contact the Kaijo Tazi Kuroshio for private charter service (reservations required, see here). (Ayukawa Port is a little out of the way, however it is accessible by public bus from JR Ishinomaki Station (80 mins). )
TICKET PRICES:
Dream Liner (round-trip): ¥2,500 (Adults), ¥1250 (Children)
Kaijo Taxi Kuroshio (round-trip per-person fare for 5+ passengers): ¥3,000 (Adults), ¥1500 (Children)
**For reservations of ferries and/or overnight stay at Koganeyama Shrine, please inquire with Tohoku Local Secret Tours. **