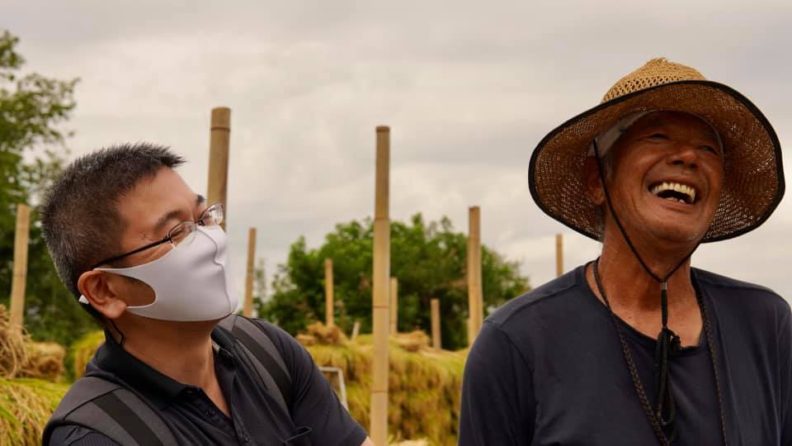 Behind each brewery and label of sake is a story that follows each ingredient from its origins and reveals the 'storytellers' – the farmers, brewers, chefs, local people – that come into contact with the sake along its journey from rice-field to 'masu' (sake cup). 
Below we explore the story of Urakasumi Sake Brewery's Junmai Ginjo 'Sabusawa' as part of a reimagined form of sake tourism – Sakagura Campanilismo.
Shiogama City is located on the Pacific Coast of Miyagi Prefecture on the shores of Matsushima Bay, one of Japan's most scenic locations. Of the 270 small islands that are dotted across the bay, the four largest are known collectively as the 'Urato Islands' (Katsurashima, Sabusawa, Nonoshima and Hojima). Sabusawa Island in particular once prospered as a lively port of the Date clan, but these days functions predominantly as a hub of oyster cultivation, including seed-oysters which are then shipped across Japan (and even overseas) to be cultivated into adult oysters. The Urato Islands/Matsushima Bay oyster farms are basically the birthplace of much of Japan's oyster produce.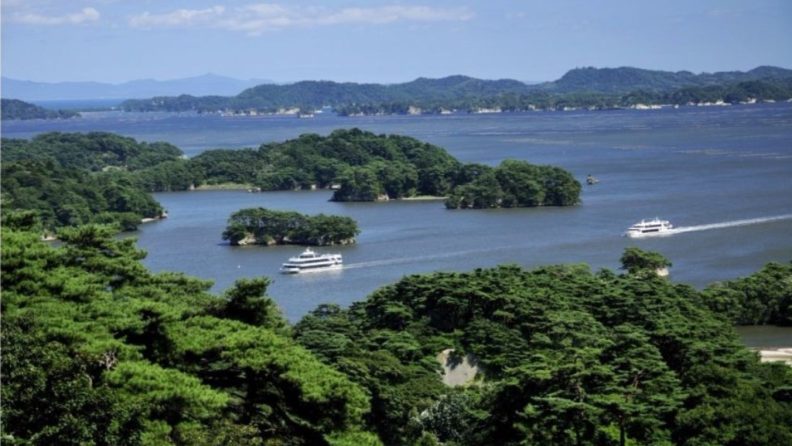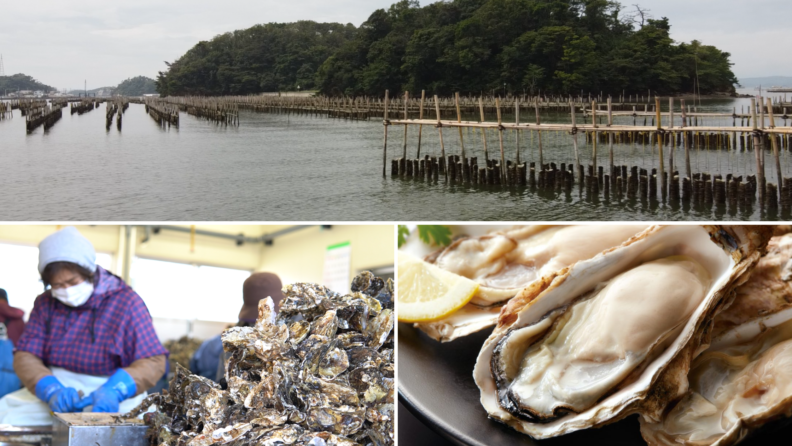 But huge, delicious oysters are not all that is produced on Sabusawa. The island is also the location of the only sake-rice produced in Shiogama City. 
Urakasumi Brewery prides itself on the regionality of its premium sake, with around 90% of the sake rice used in brewing produced locally in Miyagi. However, in an effort to produce an even more deeply 'local' sake, Urakasumi commissioned the production of the 'sasanishiki' variety of sake rice to be grown on Sabusawa Island.
Sabusawa Island was chosen not only due to its wide open space, but for its pristine environment – the perfect conditions for growing high quality sake rice. However, with no irrigation infrastructure on the island it is no easy task for the farmers who must rely on rain water to grow their crop. The island used to be home to over 30 hectares of rice-farming land but, mostly due to the dwindling population, this area is growing smaller and smaller with only two rice farmers currently active on the entire island. 
Partially due to this lack of man-power, Urakasumi has been directly involved in the production process of the sake rice from day one, with many staff physically assisting in the planting and harvesting throughout the year. Over the past decade or so, rice farming has become the basis of deep relationship between Sabusawa island and the brewery, with some staff visiting frequently – even participating in local festivals and events on the island.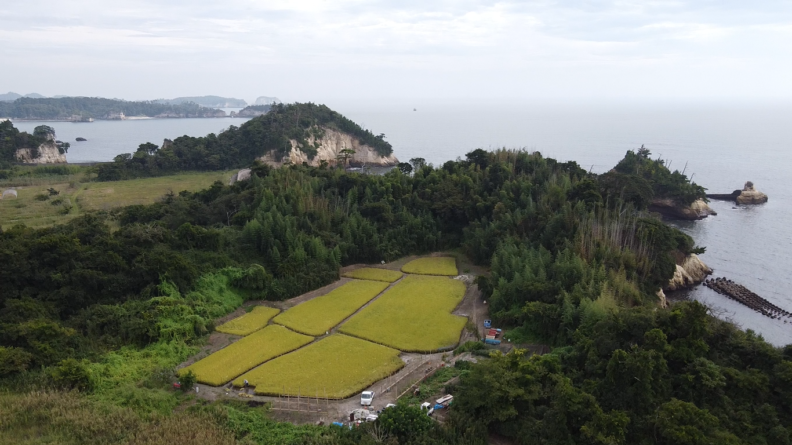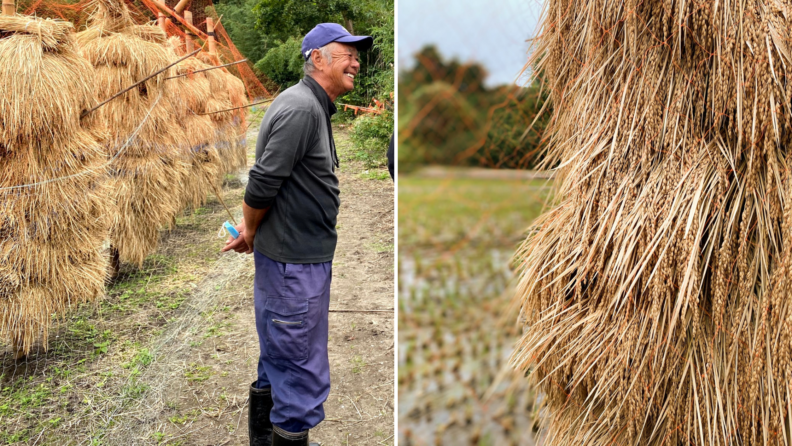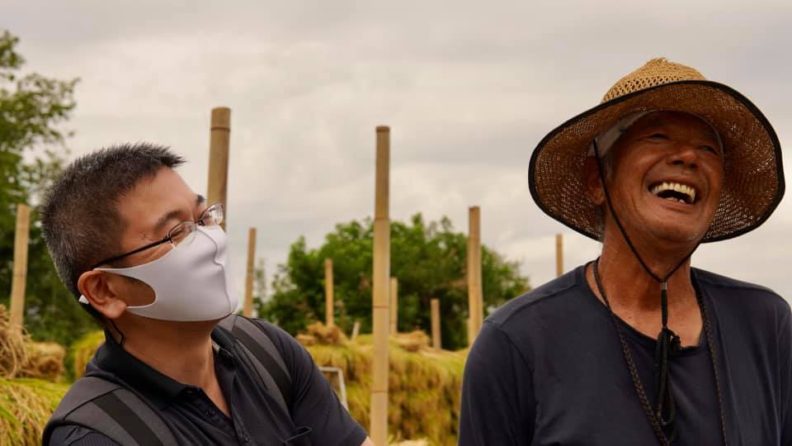 Perhaps one of the defining moments of the relationship between Sabusawa and Urakasumi was following the Great East Japan Earthquake and Tsunami disaster of March 2011. Although the main township of Shiogama (including Urakasumi Brewery itself) was directly impacted by the tsunami and sustained much damage, the islands of Matsushima Bay actually performed as a natural barrier which broke the force of the wave, weakening its impact. The Urato Islands being situated at the mouth of Matsushima Bay and facing the ocean, however, were not as lucky. 
Urakasumi was quick to act. Just like his forefathers before him, the concern of thirteenth-generation president, Koichi Saura, was with protecting the town and people of Shiogama. Even as the brewery building lay damaged and sake bottles lay broken, Koichi Saura declared that 'without the recovery of the region, there can be no recovery of Urakasumi', and immediately set to work creating initiatives like the 'Power of Sake' recovery project which saw much of the support the brewery received shared with the wider community in Shiogama and across Miyagi Prefecture. Of course, this support also extended to the provision of aid and farming equipment to the farmers and residents of Sabusawa island, including the Togawa family.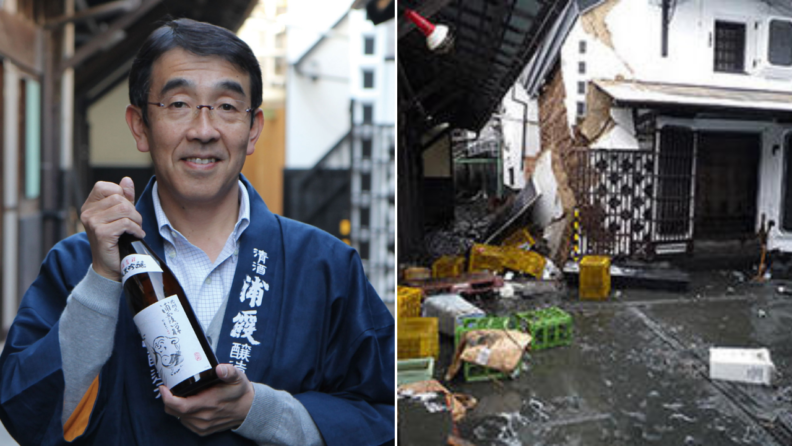 Despite working under very difficult circumstances, the Togawa family of rice-farmers on Sabusawa are also motivated by a deep love and pride of their home, not unlike the Saura family. As well as growing sake rice for Urakasumi, the Togawa family also raise oysters and run a small guesthouse (known as a 'minshuku' in Japanese) just in front of the island's ferry wharf. 
As is the case in much of rural Japan, Sabusawa is confronted with the imminent threat of a rapidly ageing population and lack of young people able to stay in the countryside and to keep their family businesses alive. For many of these communities, it is tourism that holds a flame of hope for future rivitalisation. Despite all of the hardship he has experienced, Harunobu Togawa shares that his primary motivation is simply to be able to provide for his guests fresh food that he and his wife have prepared themselves from the abundant natural blessings of Sabusawa island and Matsushima Bay.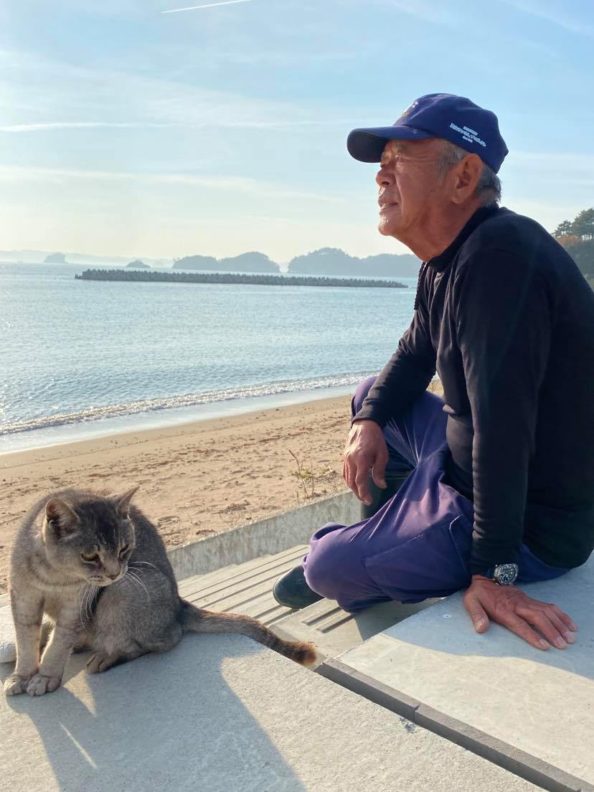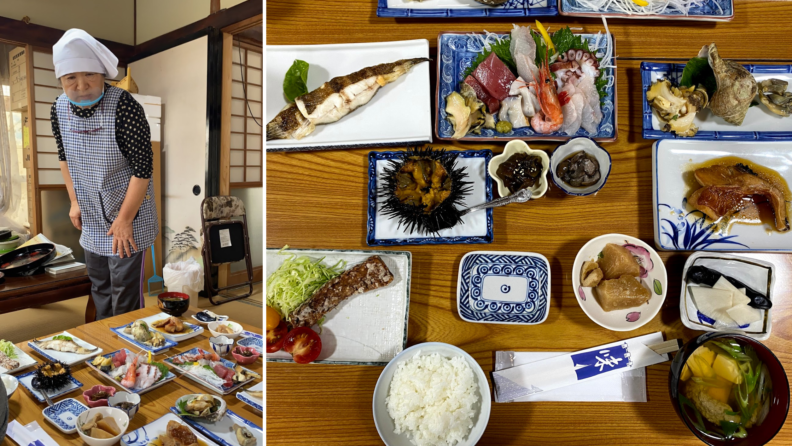 Indeed, a meal at Togawa guesthouse is unlike anything you'll experience in your life! Along with lovingly prepared plates of fresh seafood, delicious side-dishes and, of course, freshly harvested rice, the priceless chance to meet and interact with the rice-farmer and his family and even 'Kampai' with a glass of Urakasumi 'Sabusawa' is unforgettable. Great food paired with great sake is one thing, but the situation and company you share it with is the true binding ingredient. 
It is here on Sabusawa island where you can really stop and re-appreciate the 'simple' blessings of nature and life  –  an important message we have all been forced to explore in the face of these uncertain times. Indeed, the incredible resilience of Togawa-san, the people of Sabusawa, and Urakasumi Brewery is a source of inspiration and hope for the future of this unique and beautiful part of the world. 
(For details about staying overnight at Togawa guesthouse, please contact us HERE.) 
For your next glass…
---

There are plenty of great accommodation facilities in the Shiogama / Matsushima area offering visitors the chance to sample the delicious local cuisine while soaking up stunning views over Matsushima Bay (whilst sipping on some Urakasumi sake, of course!). Here are some of our recommendations: 
| | |
| --- | --- |
| MATSUSHIMA | |
A beautiful hotel featuring panoramic views over Matsushima Bay from a  Japanese/Western fusion rooms and natural hotspring baths. 
Meals are buffet style with an indulgent selection of dishes made with locally sourced ingredients. 
Access: less than 10 mins drive from JR Matsushima-Kaigan Station on the JR Senseki Line. 
---
| | |
| --- | --- |
| SENDAI | |
Located in the heart of downtown Sendai City, The Westin Sendai offers both incredible convenience, impeccable hospitality and understated luxury. Panoramic views over Sendai City, the surrounded mountains and Pacific Coast can be viewed from the building's upper floors. Guests can choose from the comforts of 4-star grade rooms or club-level rooms and suites. 
Access:  5 mins drive from JR Sendai Station.
---

Can't get enough local sake? Be sure to drop by one of the below locations to stock-up on your favourite drops so you can continue the journey at home! Ask the friendly store owners for their recommendations, including some limited edition brands that can only be purchased in the Shiogama / Matsushima area!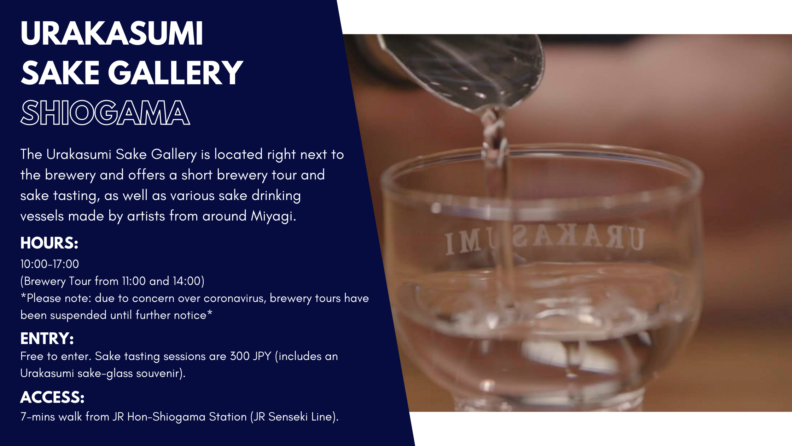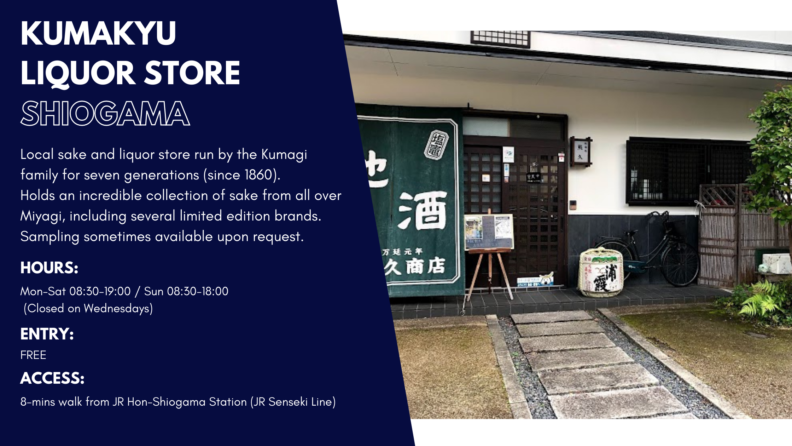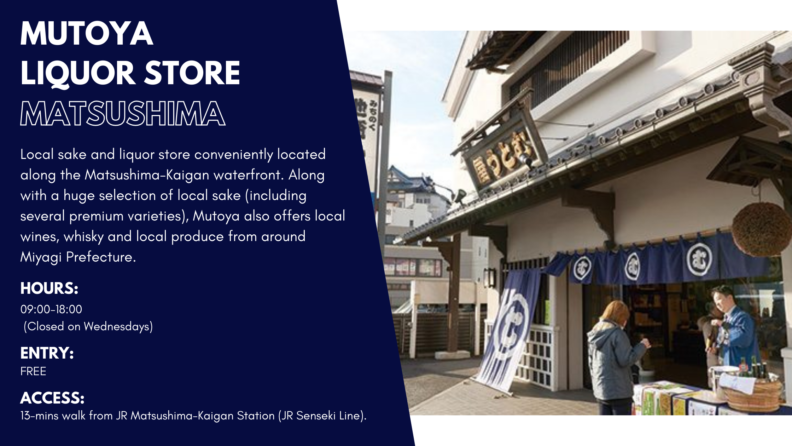 ---

CLICK HERE FOR COMPANY DETAILS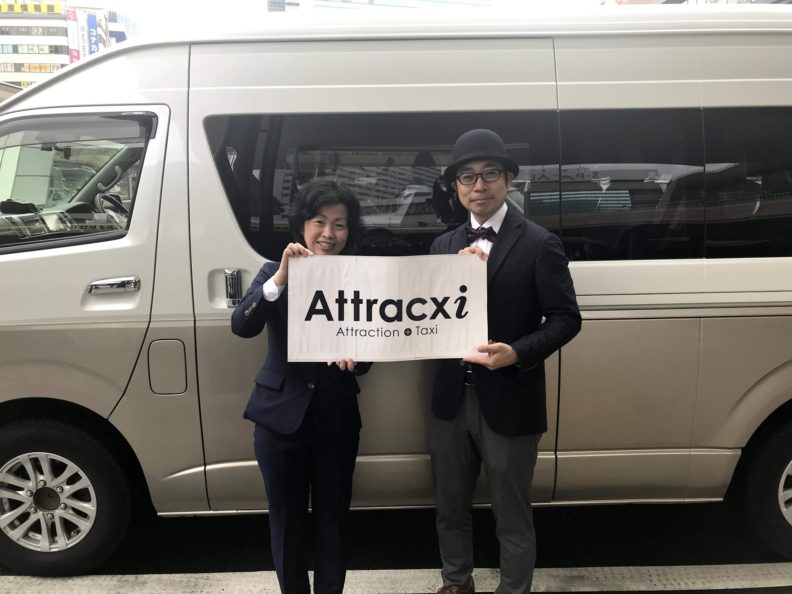 Private driver-guide services also available!
---